Hundreds of thousands of people around the world lose their lives every year because they work in dangerous and complex environments. A drone developed by a Swiss company not only can enter a variety of narrow and hidden dangerous areas that are difficult for humans to carry out industrial monitoring operations, but also solve two major problems affecting the rapid development of the drone industry: how to deal with obstacles, How to solve the security risks of drones.
Thanks to world-class research and flexible drone supervision, Switzerland is the world leader in drone technology and even has a "Dragon Valley" that includes many emerging companies. Switzerland's drone valley is similar to Silicon Valley in the 1980s. In just a few years, it has created nearly 100 emerging startups. Flyability is a typical success story. This Swiss high-tech start-up is dedicated to research and development. Safe drone for the scene.
Let's take a look at his drone.
Fly into the depths of the spectacular and beautiful Swiss glaciers and collect data for scientific research
In the jungle at night, two drones met and staged a gorgeous and magical "double dance"
UAVs can be successfully completed in some closed, dangerous, complex, or even completely dark areas of power plant boilers, pressure vessels, cargo tanks, industrial furnaces, nuclear power plants, etc.
Self-contained ball-type protective cover, all-round protection does not bomber!
Elios is a crash-resistant drone from Flyability, also known as the world's first industrial-grade drone for the inspection industry. It is said that its biggest feature is not afraid of hitting! It comes with a protective cover, 360-degree protection against bombing…
We know that the body of the drone is very fragile. Once a collision occurs, not only can the work given to it be completed, but the body itself will be wiped out. Elios refreshes the interaction between drones and people. It solves two major challenges in the field of drones: how to deal with obstacles and their collisions; how to improve safety and enhance interaction with people.
It is understood that the latest ELIOS2 is designed for indoor inspection, with a new anti-collision design, stable flight in dark and chaotic air, 12 million pixel camera and powerful, intelligent lighting system.
Inspired by the study of insect flight in nature, Elios has carbon fiber cages and flight control algorithms that are only 40 cm in diameter and can fly freely in dangerous and complex environments.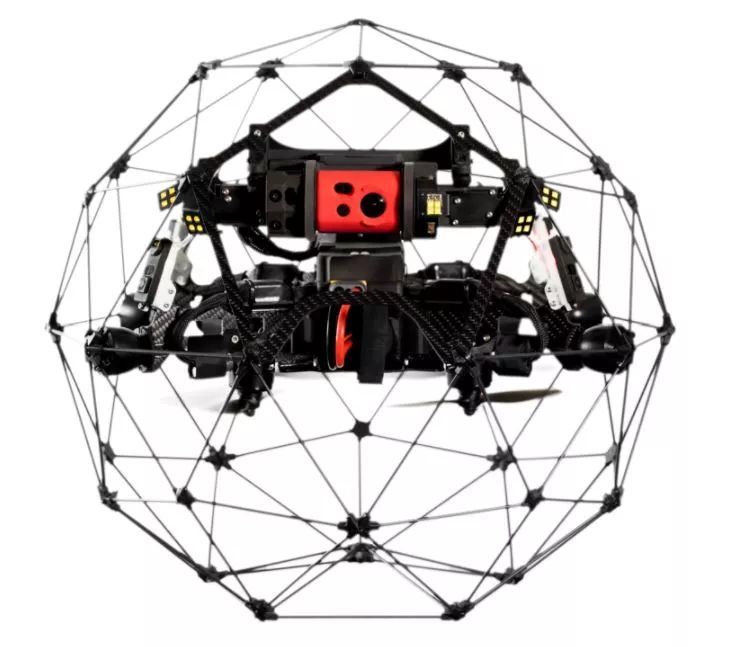 In addition to industrial use, ELIOS has also received attention from the police and fire departments, such as the French Panthers commando, which specializes in criminal gangs and terrorists, and is the user of ELIOS drones. The fire department also used ELIOS to enter the house after a fire, to look for losses or to find fire.
Operational errors in flight are not a problem in front of Elios, and even those who have not received flight training can only get started with a few days of practice.
Inspired by a search and rescue and insect research
The two founders of the Flyability company graduated from the Federal Institute of Technology in Lausanne. In the post-disaster relief work of the Haiti earthquake in 2010 and the Fukushima nuclear accident in 2011, Adrien Briod, who was also a doctoral researcher in the direction of drones at the Federal Institute of Technology in Lausanne, Switzerland, found that due to technical limitations, the site Many space drones are inaccessible, which is undoubtedly a blow to the search and rescue of the victims.
In order to make disaster relief safer and more efficient, and to save more lives, Adrien Briod and his cousin Patrick Thévoz, who is engaged in business consulting, are determined to build a drone product. Adrien Briod's prototype machine for his Ph.D. work is the prototype of the later ELIOS drone.
Flyability is registered in Lausanne, Switzerland. A year later, they were selected to participate in a drone competition designed to "improve human life and environmental quality" and won the first prize worth about 7 million yuan.
"In the initial research experiments, we were looking for inspiration from insects, especially flies," said Flyability co-founder Patrick Thévoz. "We want to know how flies fly in a narrow space; what to do when encountering obstacles can not lose direction and find opportunities to escape.
Safe production revolution initiated by drones
When the two founders released the first promotional video on the Internet for ELIOS, they found that in many industries, such as chemical companies, oil companies, power and groundwater, the demand for their products is very urgent.
The two brothers realized that apart from the humanitarian assistance for disasters, their products have been widely used in the industrial field. This will be a " drone revolution" about safe production, freeing more workers from poor jobs.
In general, the ELIOS drone achieves a collidable and stable flight through its own spherical technology, a flight control algorithm for collision correction, and cleverly placed core sensors such as sensors and internal components. Coupled with the high-definition camera and thermal imaging camera blessing, it has the possibility to replace industrial manual equipment and different scene detection, and is widely used in safety production scenarios. With the advent of ELIOS, people are turning some impossible into possible!